High pressure urethane seals are valued because of their increased seal life, performance, less equipment downtime, saving inventory, expenses and tensile strength. At Plan Tech, we combine a durable prepolymer with a curative in the production of high pressure urethane seals. This combination is mixed as a liquid and is poured into custom molds. The High pressure urethane seals can be easily machined and have more urethane added to allow for even more complex designs.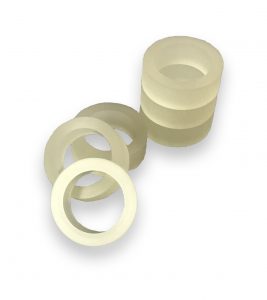 High pressure urethane seals are extremely tear resistant and have a high tensile property. They are water and fungal resistant, have strong bonding properties, hyper-elastic and chemical resistant, these properties make it durable and more preferred over rubber and plastic. Plan Tech has 4" x 8" flow water jet capability of cutting thousands of High pressure urethane seals frequently out of just one sheet resulting in a low–cost industrial seal for any application. We currently supply hundreds of thousands of cast urethane seals around the world. Industrial urethane seals produced at Plan Tech frequently last the life of the machine even after years of abuse and repeated compression set. We offer many different additives that can be added to the urethane in a liquid state to suit our urethane for special applications.
Plan Tech for over 30 years has focused on using speed and precision to manufacture the highest quality industrial cast urethane parts to our customers. A particular strength is the breadth of our in-house capabilities such as urethane compression molding and grinding urethane parts which, when combined with our extensive experience, enables us to deliver tight tolerance custom urethane parts while maintaining the quality control and cost effectiveness our customers require. The tests are performed according to an established set of standards provided by an accredited testing organization such as the Society for Testing and Materials (ASTM) who define the procedures in detail.
Are you interested in cast High Pressure Urethane Seals? Please Contact us so we can help solve your requirements!