High traction urethane robot wheels are used by robotics engineer to add additional traction to the wheels on mini-sumo robot and to make tires. Urethane has proven to be very important in the robotics industry, which is growing rapidly and according to the report released by BCG, an estimated revenue of about $87 billion it's expected by 2025. This analysis implies an expected accelerated growth of high traction urethane robot wheels all over the world.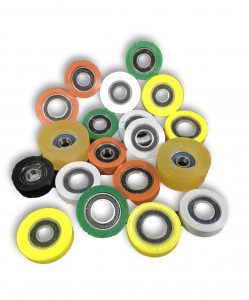 High traction urethane robot wheels are applied in both short and long production, its flexibility, color, hardness, and durability makes it the top choice of robotics engineers. These benefits amongst others are what we put into consideration at Plan Tech throughout the production process. We ensure that the high traction urethane robot wheels manufactured are highly resistant to acids, harsh chemicals, solvents, and abrasion. In addition to that, our robotics engineering team manufactures quality high traction urethane robot wheels that can withstand harsh weather conditions and it can be manufactured in any color of your choice.
Plan Tech manufactures different types of high traction urethane robot wheels such as tight tolerance urethane wheels, industrial urethane wheels, V-Groove urethane wheels, urethane roller coaster wheels. Plan Tech a leader in cast urethane manufacturing, process's urethane additives from the world's leading chemical companies. Whether its enhanced lubricity for high abrasion resistance applications or for anti-static wheels for shoppers who don't want to be zapped touching a metal cart. Having more than 30 years experience in the polyurethane industry provides Plan Tech the specific knowledge of incorporating polyurethane additives:
Color Matching Urethane Additives: Whether it is color matching, just-in-time shipping, custom packaging, or any of the other services PAT Products provide, our customers get exactly the solution they need. We take great pride in the success of our customers. They are part of the family.
Flame Retardant Urethane Additives: PAG is a well-established manufacturer and global supplier of flame retardants and smoke suppressants for polyurethane applications warehousing material throughout the United States, PAG is able to respond to customers in a timely fashion and provide cost savings. PAG Holdings is committed to providing the highest quality products with unsurpassed service.
Are you interested in polyurethane sheets? Please Contact us so we can help solve your requirements!