Hyperloop urethane wheels are produced at Plan Tech using a variety of different molding techniques. Most commonly these lightweight high-speed wheels are produced from an aluminum core that can be machined to any profile at Plan Techs in-house machine shop saving the end customer shipping costs to provide the cores or "rims" elsewhere. These aluminum Hyperloop Urethane Wheels are then media blasted where a light coat of bonding adhesive will bond the urethane to metal forever.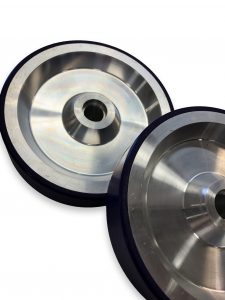 For added strength Plan Tech will work with different Hyperloop design teams to add a positive lock groove for an superior bond strength. These wheels will be traveling at a very high rate of speed upwards of 600 MPH and will need to be high speed balanced before being used. Plan Tech can do all the turning to the urethane to include any customized profiles desired for Hyperloop Urethane Wheels. Made of proven, durable urethane and strong enough to take the abuse of neglected, abandoned rails, our urethane rail wheels are capable of carrying heavy loads and of transmitting impressive driving forces. Plan Tech's hyperloop urethane wheels are non-conductive, won't set off crossings and offer quiet and smooth running. We supply according to your samples or drawings and can also produce custom urethane rail wheels to your precise designed specifications. We can even re-coat urethane on your existing rail wheels.
Plan Tech also has an outstanding team of dedicated employees with exceptional talents designing and manufacturing custom hyperloop urethane wheels. We also are very proud of the "company we keep." Our customers include many Fortune 500 companies, most of whom have been customers for 20+ years. Their drive to become industry leaders has helped us do the same. Whether you are a start-up company or global leader, we can add value to your products with our strong engineering support, polyurethane application experience and constant focus on meeting all delivery requirements. Our rapid prototyping capabilities for Hyperloop Urethane Wheels have also received particularly positive feedback – we frequently go from "Print to Part" in 10-15 business days – Everything we manufacture is MADE IN THE USA!
Please Contact us for further details or to answer your questions about cast hyperloop urethane wheels!