Industrial urethane gaskets are custom made at Plan Tech for any profile or application needed. Plan Tech will frequently decide to utilize our in-house water jet cutting capabilities and cut any profile from a urethane sheet to produce industrial urethane gaskets configurations.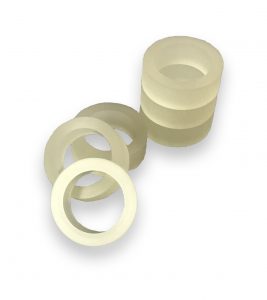 The hardness of gaskets depends on the load it will be sealing, often times industrial urethane gaskets are of medium hardness but can be cast from any hardness urethane material from chewing gum soft to rock hard are available at Plan Tech. Also just about any thickness gasket can be produced.
From high volume to one-off custom parts for equipment Plan Tech will work with you on every detail of the gaskets to ensure fitment and long service life ahead. Tight tolerance urethane gaskets have a great ability to seal on an uneven surface and is resistant to many chemicals. High volume industrial urethane gaskets are often times compression molded at Plan Tech for rapid shipments of molded gaskets. Being able to cast complete eliminate the lead time and added cost from running the water jet and is ideal for high volume orders requiring a tight tolerance and if the profile allows for compression molding.  From a simple sketch of the industrial urethane gaskets required. Plan Tech can reverse engineer and water jet cut or mold custom gaskets often times in just a couple of weeks.
For over 30 years we have focused on using speed and precision to manufacture the highest quality industrial polyurethane gaskets to our customers. A particular strength is the breadth of our in-house capabilities which, when combined with our extensive experience, enables us to deliver tight tolerance industrial urethane gaskets while maintaining the quality control and cost effectiveness our customers require. The tests are performed according to an established set of standards provided by an accredited testing organization such as the Society for Testing and Materials (ASTM) who define the procedures in detail.
Please Contact us for further details regarding industrial urethane gaskets!