Key shafted urethane rollers are usually utilized in assembly, material handling, and manufacturing operations. They are usually used in many industries such as food processing, steel industry, packaging industry, marine industry, mailroom equipment, woodworking machinery, and metal trades.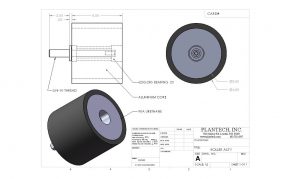 Engineers prefer the use of urethane in the manufacture of key shafted urethane rollers because urethanes are wear resistant and can carry higher loads than other materials such as plastic and rubber. More so they can be bonded to any substrate and can be custom made to any color of your choice.
Plan Tech specializes in the production of key shafted urethane rollers and custom made urethane rollers. Our technical staff and engineers are available to help you determine the right load-bearing capacity, core design and urethane compound that best suits your application. Our key shaft urethane rollers are known to be the best among its competitors.
Plan Tech has an In-House Machine shop which is always available for the production of new key shaft urethane rollers; we also help to replace and service old rollers. Aside, the key shafted urethane rollers we also manufacture urethane idler rollers, urethane pinch rollers, urethane conveyor rollers, V-Rollers, urethane drive rollers, and other custom-made equipment from urethane. Please contact us today for more information concerning key shafted urethane rollers. We are a leader in cast urethane manufacturing, process's urethane additives from the world's leading chemical companies. Whether its enhanced lubricity for high abrasion resistance applications with Key Shafted Urethane Rollers or for anti-static wheels for shoppers who don't want to be zapped touching a metal cart. Having more than 30 years experience in the polyurethane industry provides Plan Tech the specific knowledge of incorporating polyurethane additives:
UV Protection Urethane Additives: Ferro is a leading global supplier of ultraviolet UV protection technology-based functional coatings and color solutions in urethane products protecting color pigments for urethane industries that are heat stable, lightfast, and chemical and weather resistant.
Are you interested in Key Shafted Urethane Rollers? Please Contact us so we can help solve your requirements!