Keyed Polyurethane Drive Rollers are easily molded with high-quality polyurethane material for the most demanding applications. Plan Tech has a bonding process with a tear strength greater than the urethane material it is adhered to.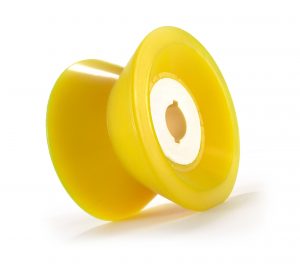 We can achieve such great urethane bond strength from our state of the art clean room we process keyed polyurethane drive rollers in. Each core will be washed and de-greased from any machining oils before it is media blasted. Each core for the polyurethane drive roller will have a light coat of bonding adhesive applied directly to the core before production. By pouring the liquid polyurethane into a mold Plan Tech can produce a tight tolerance keyed polyurethane drive rollers at a rapid past for any application.
Polyurethane does very well in outdoor applications and can be machined or molded to any profile needed. Most rollers are supplied in a 95A but any hardness polyurethane is available upon request. 95A is a good choice because it will not flat spot over time yet it is soft enough to absorb any impact or mismatch in alignment. At Plan Tech we can reverse engineer existing rollers to match OEM specs. Frequently we can add additives that will increase abrasion resistance and add lubricity to keep products from sticking. An Anti-static additive is also common to reduce any static build up from sliding friction.
Manufacturing Cast Urethane Parts that effectively incorporate a metallic or non-metallic component requires a superior method for achieving a bond between the urethane and the substrate. Here at Plan Tech, we have developed preparation methods to consistently apply specially formulated urethane adhesives. Our proprietary equipment for cleaning, preparation, automated adhesive spray application and automated drying ensures a consistently high-strength bond between the urethane and the substrate. Over the past three decades, we have adhered cast urethane to millions of parts with an outstanding record of part performance in demanding applications.
Please Contact us for further details about keyed polyurethane drive rollers!