Keyed polyurethane shafted rollers are high precision urethane products that find use in a good number of industries today. They are designed and manufactured by us in our world-class in-house machine shop that is fully-equipped with sophisticated machinery and equipment. Like every one of our other urethane parts and products, we only make use of high-quality urethane materials for the production of our keyed polyurethane shafted rollers. Also, to make sure they are of top-grade quality and the very best in the market we always apply speed and precision which allow us to maintain consistency in quality. Our experience over the years has also given us the ability to meet the high-volume demand for Keyed Polyurethane Shafted Rollers from our various clients.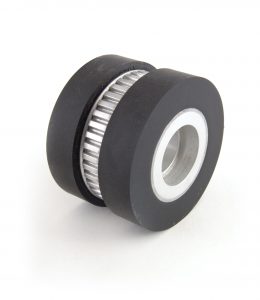 Our keyed polyurethane shafted rollers boast superior physical property which is evident in their high resistance resist wear, abrasion, corrosion, chemicals, and environmental conditions. Our in-house precision engineering unit has the technical ability to cast keyed polyurethane shafted rollers in many different shapes, sizes and durometers that will meet the requirement of any application.
So, no matter the type of application you require keyed polyurethane shafted rollers for, you can always count on Plan Tech to meet your demands with perfection. The following are some advantages of utilizing Keyed Polyurethane Shafted Rollers vs Silicon UHMW and Nylon:
BONDING ONE MATERIAL TO ANOTHER MATERIAL
You do want to look for a product that can be bonded to other products, and no other material allows for such bonding better that Urethane materials. Fortunate for you that Plan Tech allows for bonding of any type of material example; aluminum or steel. Such bonding ability cannot be expected with Silicon, UHMW, and Nylon
DUROMETER RANGE
Urethane parts offer a wide coverage or range of durometers in comparison to Silicon, UHMW, and Nylon that are of limited range. One of the benefits offered by the wide durometer range of Plan Tech is that urethane parts are that you have the flexibility of choosing the perfect product from a variety of options.
SHOCK ABSORBING AND SOUND DAMPENING
You can say goodbye to the issues of sound reduction and shock absorbing with Plan Tech urethane. You certainly can't do same with Silicon, UHMW, and Nylon due to the significant difference in their capabilities.
RESISTANCE TO OZONE AND OXYGEN
Where Silicon, UHMW, and Nylon will fail you in resisting Ozone and Oxygen, Plan Tech's polyurethane's will efficiently do the opposite – which is, resist Ozone and Oxygen.
Please Contact us for further details regarding Keyed Polyurethane Shafted Rollers!