Large urethane rollers are manufactured at Plan Tech using a high-quality resin that is tailored to the application needed. While most large urethane rollers are coated in 95A hardness – Plan Tech offers a full line of durometers. We can also modify our urethane to enhance lubricity or for antistatic properties.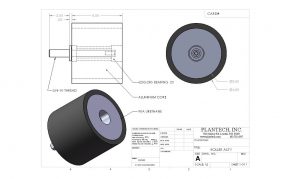 Custom large urethane rollers applications are just one of Plan Techs specialties. Plan Tech also has an in-house machine shop capable of making molds and light secondary operations to large urethane rollers. Each roller is media blasted and chemical bonding adhesive is applied directly to the core of the roller to ensure a bond strength greater than the tear strength of the material.
Our urethane resin is purchased from world leaders and often times has greater physical properties vs OEM rollers with the ability to chemically adapt to special applications. Custom cores or replacement parts can be made up to 4' feet long and 12'' inches in diameter. All previously coated large urethane rollers can also be reproduced or repurposed by machine stripping off the old coating before being degreased and media blasted. FDA applications are also available in special urethane formulas with excellent physical properties and rapid turn around for our custom large urethane rollers.
Plan Tech also offers urethane roller recovery services. This involves taking your old rollers striping them and coating them in urethane. This is a very economical option since you wouldn't need entirely new rollers, and is actually a best practice if you have your rubber or plastic wheels recovered with urethane regularly. Urethane is known for being highly durable with superior wear properties and lasts for a long time, which is why it makes a much better alternative to rubber and plastic. If you are looking for an affordable way of maintaining your equipment and want to upgrade from plastic and rubber, which loses shape quickly, then send us your old rollers and we'll make them better than new with a fresh coat urethane roller recovering.
Please Contact us for further details about our custom cast large urethane rollers!