Locking urethane washers are a thin, flat disc with a hole in the center. Base on the construction material, locking urethane washers can be used to distribute the load of a threaded fastener (like a screw or a nut), prevent galvanic corrosion, reduce vibration, or act as a spacer, wear pad, spring, seal or locking device.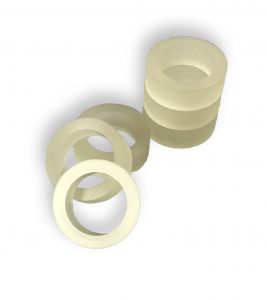 For over three decades and counting, we have been manufacturing locking washers that meet tight tolerance standards. Our technically trained engineers are highly skilled at casting locking rubber washers according to the requirements of your demands. With the quality materials we utilize, our sophisticated machinery and the technical expertise of our engineering team, our customers can always count on us to custom-manufacture locking washers that offer outstanding physical properties (such as the ability to resist wear, chemicals, and abrasion)
Our urethane products are well known in the industry for their excellent durability (i.e., their ability to perform at their optimal best even after several years of usage) which makes them a good value for your money. So, no matter the concept or design of locking rubber washers you want, we are the ideal company where your imagination can be transformed into world-class urethane product.
For over 30 years we have focused on using speed and precision to manufacture the highest quality industrial cast urethane parts to our customers. A particular strength is the breadth of our in-house capabilities such as urethane compression molding and grinding urethane parts which, when combined with our extensive experience, enables us to deliver tight tolerance custom urethane parts while maintaining the quality control and cost-effectiveness our customers require. The tests are performed according to an established set of standards provided by an accredited testing organization such as the Society for Testing and Materials (ASTM) who define the procedures in detail.
Are you interested in Locking Urethane Washers? Please Contact us so we can help solve your requirements and work with you on your specific application!