Material handling urethane rollers come in different shapes and lengths. Plan Tech uses urethane in the production of material handling urethane rollers because of its strong properties when compared to various types of rubber and plastics.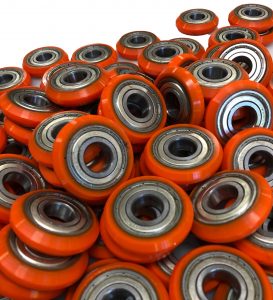 The material handling urethane rollers produced by Plan Tech can be used in the metal service industry, conveyor companies, paper and cardboard processors, steel bar and tube manufactures industry.
Some features of the material handling urethane rollers manufactured by Plan Tech include:
Available in short and long lengths
Constructed for high-speed load bearing application
Used for heavy or light gage wall tubing
Coated with soft or hard durometers for the proper combination of cut, traction and abrasion resistant
Advantages of using material handling Urethane Rollers include:
Extended field wear
Excellent load bearing capacity
Excellent noise abatement
Excellent impact resistance
Cost-effective
High efficiency
Dimensional stability
Eliminates the inconsistent thickness and surface irregularities
Chemical resistance
Reduces overall conveyor maintenance.
Plan Tech material handling polyurethane rollers are manufactured by an experienced team of engineers. Our products are easily adaptable to different applications including inspection, machining, design, and finished goods. We are in constant research to improve our services to you and provide products that are highly versatile. Cast polyurethane holds many advantages over metal and plastic:
Urethane vs Metals and Plastics
Better wear
As far as resisting abrasion and corrosion are concerned, no other elastomer material perform better than polyurethanes. This is one aspect where their performance is more efficient than plastics and most metals.
Cost Efficiency
The production of metal parts can be very expensive, and the reason is that, unlike urethanes that can be cast easily, the casting of metal parts cannot be done without the process of welding and the use of machines.
Are you interested in Material Handling Urethane Rollers? Please Contact us so we can help solve your requirements and work with you on your specific application!