Molded Polyurethane Wedges are manufactured at Plan Tech using the very best of raw materials from world-renowned chemical producers who are leaders in their sector. The sophisticated machinery at Plan Tech with which our state of the art in-house cast polyurethane manufacturing facility and machine shop is equipped with rank among the very best in the United States of America and the world over.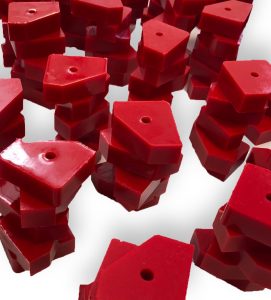 For over 30 years and counting, we have been manufacturing molded polyurethane wedges that meet world standards. Our technically gifted engineers are highly skilled at casting molded polyurethane wedges according to the requirements of your demands.
With the quality materials we utilize, our sophisticated machineries and the technical expertise of our engineering team, our customers and prospects can always count on us to custom-make molded polyurethane wedges that offer outstanding physical properties (such as the ability to resist wear, chemicals, and abrasion)
Our molded polyurethane wedges and cast urethane products are well known in the industry for their excellent durability (i.e. their ability to perform at their optimal best even after several years of usage) which makes them a good value for your money.
So, no matter the concept or design of molded polyurethane wedges you want, we are the ideal company where your imagination can be transformed into world-class urethane components. Polyurethane holds many advantages over metal and plastic:
Less noise
This is one advantage urethanes hold over metals that require no debate. While metals are generally renowned for their remarkable ability to produce noise, polyurethanes, on the other hand, absorb noise thereby preventing it.
Elastomeric ability
The elastomeric memory of urethanes is second to none; they have the ability to regain their initial size regardless of the rigidness at which they are extended or stretched to a significant extent. Whereas many plastics and metals can't regain their original size having been extended beyond their breaking point or elastic limit.
Are you interested in molded polyurethane wedges? Please Contact us so we can help solve your requirements and work with you on your specific application!