Molded Polyurethane Wheels are one of the numerous urethane products that are constantly in high demand. The Molded Polyurethane Wheels that we design and manufacture at Plan Tech are made from the best raw materials produced by globally recognized chemical companies. With our state of the art cast polyurethane manufacturing facility and in-house machine shop that is fully equipped with sophisticated machinery. Our team of technicians whose technical expertise is second to none in the sector, we ensure that our numerous clients are assured of topnotch quality.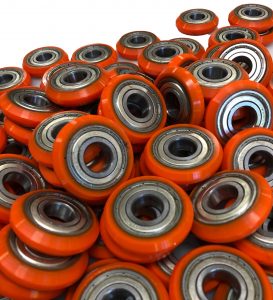 However, to ensure consistency in quality, as well as timely delivery in spite of the volume of product, ordered, our team of engineers always work with speed and precision a distinguishing factor that stands us apart from others in the cast polyurethane industry. Our Molded Polyurethane Wheels are well recognized in the US and the world over for their remarkable properties which include; excellent resistance against chemicals, abrasion, and extreme weather conditions.
Our Molded Polyurethane Wheels also offer good value for money with their exceptional durability (i.e, our molded polyurethane wheels still retain their maximum efficiency even after years of usage.) It doesn't matter what your requirements are, be it v-groove polyurethane wheels, wheels for conveyors or robotic wheels. We are the go-to company in the cast polyurethane industry where your demands can be met or exceeded. For over 3 decades we have focused on using speed and precision to manufacture the highest quality industrial molded polyurethane wheels to our customers. A particular strength is the breadth of our in-house capabilities such as compression molded parts and grinding urethane parts which, when combined with our extensive experience, enables us to deliver tight tolerance custom molded wheels while maintaining the quality control and cost effectiveness our customers require. The tests are performed according to an established set of standards provided by an accredited testing organization such as the Society for Testing and Materials (ASTM) who define the procedures in detail.
Are you interested in cast Molded Polyurethane Wheels? Please Contact us so we can help solve your requirements and work with you on your specific application!