Molded urethane grippers are one of the high precision urethane products we manufacture in our fully equipped in-house machine shop using our state of art polyurethane facility. Our molded urethane grippers have proven to exhibit excellent performance capabilities and are made available in a wide range of profiles, lengths, and hardness.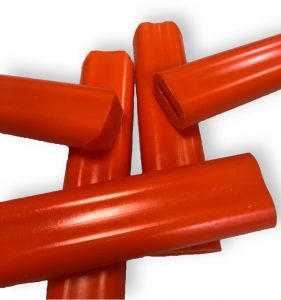 The breadth of our in-house capabilities helps in the reduction of production cycle time from receipt of order to final delivery, and we use advanced technologies to ensure your order meets all critical dimensions. Our team of highly skilled technicians are well vast in the art of producing cast urethane grippers that are of world-class quality and will meet/exceed your expectation.
Here's why:
#The polyurethane formulation used in producing our molded urethane grippers has a much-improved resistance to wear and can outlast conventional rubber by as much as four times
#In terms of performance, our molded urethane grippers will always outperform other materials – like rubber which will often permanently deform much sooner
#Our molded urethane grippers have a tear strength that is 100% over traditional rubber grippers.
#Tensile strength is also way more than that of natural rubber
#It has excellent flex life, hardness, and coefficient of friction
Cast Urethane Parts and Molded Urethane Grippers Manufacturing Aids:
Before the production of a particular part, the purpose of which it will be used must be defined
Focus on maximizing the physical properties useful to the project
Acquire or put together the perfect material
AutoCAD design review
The design of the manufacturing aids or tooling design
An original or prototype part
Experimenting the prototype pieces
Revisions
Production or manufacturing
The final product may have one or two anomalies and impairment. If that should be the case, such shortcomings have to be taken care of just as the manufacturing aids need to be adjusted in accordance. At Plan Tech our cast urethane parts are produced by expert engineers and chemists that are vastly experienced and skilled in the field. They input their best to ensure the very best output of urethane parts.
Please Contact us for further details about molded urethane grippers!