Molded urethane rollers with any profile required to match the rolling surface of the product are produced at Plan Tech with rapid turn around. Molded urethane rollers are not limited to being bonded to a steel shaft but are also common in dual durometer configurations. Consisting of a hard 75D material core bonded to a softer 90A coating allows Plan Tech to produce molded urethane rollers of just about any size.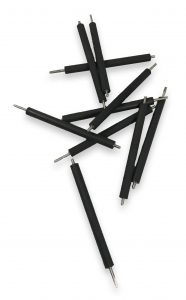 When a steel core is necessary for the application Plan Tech has built several lay down style molds to overpour urethane molded rollers with at a rapid speed. After each of the molded urethane rollers passes inspection they will go to our in-house machine shop to be turned or ground. Being able to turn molded urethane rollers allows Plan Tech to hold a tight tolerance of +/-.005 on most profiles in any hardness material. FDA molded urethane rollers are also popular with additives like PolyMag that will add stainless flakes to the urethane material to be detected in existing X-Ray equipment in the event of a failure or jammed material against the molded urethane roller.
Frequently we have customers reach out to use the existing equipment they have modified for special applications where OEM urethane rollers do not offer any deviations. At Plan Tech we can reverse engineer existing urethane rollers to produce any custom configurations necessary for the application with prototype options available.
For over 30 years we have focused on using speed and precision to manufacture the highest quality industrial cast urethane rollers to our customers. A particular strength is the breadth of our in-house capabilities such as grinding urethane parts which, when combined with our extensive experience, enables us to deliver tight tolerance custom urethane rollers while maintaining the quality control and cost effectiveness our customers require. The tests are performed according to an established set of standards provided by an accredited testing organization such as the Society for Testing and Materials (ASTM) who define the procedures in detail.
Please Contact us for further details about our molded urethane rollers!