Molded urethane seals are on high demand in the market because of its ability to withstand extreme conditions while maintaining the flexibility needed to seal in the most demanding industrial applications. Molded urethane seals provide excellent abrasion resistance, elasticity, chemical resistance and rebound. The different types of molded urethane seals manufactured by Plan Tech include:
Urethane backing seals
Urethane dual lip seals
Urethane cup seals
Dual durometer seals
Urethane chevron seals
However our design and production are not limited to the above-molded urethane seals, we also produce custom-made molded urethane seals depending on the client design, choice, specifications, and budget. Plan Tech provides precision cast urethane seals, manufactured with high-end equipment, using only urethane materials that have passed our certification processes. Our molded urethane seals reduce equipment downtime and save on material costs. We produce custom-made molded urethane seals sizes, formulas, colors, and durometers.
Advantages of our custom molded urethane seals:
Our service delivery is fast
We are able to mold intricate shapes with or without metal inserts.
Our tooling compression molded parts are very inexpensive in comparison to other forms of molding such as injection and transfer
Our one step molding process is more cost-effective than machining blocks of plastic
At Plan Tech we are committed to world-class service delivery, contact us today. Plan Tech a leader in cast urethane manufacturing, process's urethane additives from the world's leading chemical companies. Whether its enhanced lubricity for high abrasion resistance applications or for anti-static wheels for shoppers who don't want to be zapped touching a metal cart.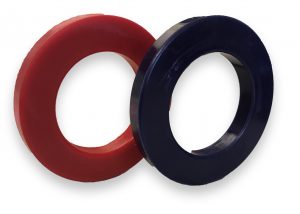 Having more than 30 years experience in the polyurethane industry provides Plan Tech the specific knowledge of incorporating polyurethane additives such as:
FDA Urethane Additives: Eriez POLYMAG® a leading manufacturer of Metal Detector systems, allows urethane molders to produce FDA Metal Detectable and X-Ray Visible urethane parts for food contact applications that can satisfy varying levels of detectability. Acceptable for repeated contact with food under section #177.21000, subpart F. Can be used in continuous and repetitive contact with dry, aqueous and fatty foods. Typical features of these polyurethanes include outstanding abrasion resistance, high tensile and tear strength, and excellent load bearing capabilities.
Are you interested in molded urethane seals? Please Contact us so we can help solve your requirements!