No crush urethane wheels are one of our specialty products, and we utilize only top-grade urethane materials from globally renowned resin producers to ensure our no crush urethane wheels are of the highest quality possible. It, therefore, isn't a surprise that our no crush wheels offer superior physical properties than most their counterparts in the industry. Our engineering department which boasts a team of technicians who are among the best the industry can boast of possessing the technical prowess to cast no crush urethane wheels in different shapes, sizes, and durometers. We cast / pour the urethane into a mold to make a part and then machine it using the state of the art facility in our in-house machine shop.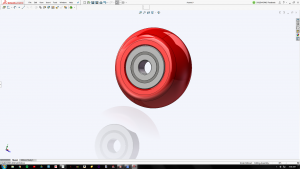 Having been in the business of producing premium quality urethane products over the past 30 years, we, therefore, proud to say we are capable of providing a solution to all urethane problems. And to enable us to maintain the top-notch quality of our no crush urethane wheels and meet the high-volume demand of our numerous customers, we apply speed and precision for the manufacture of the product like we do with all our urethane parts.
Our no crush urethane wheels remarkable performance ability and outstanding durability. They are capable of resisting wear, chemicals corrosion and more, and can maintain their optimal performance even in harsh environment. Cast urethane parts aren't just useful for the largest fortune 500 industrial companies in the world – they're also incredibly useful and widely used by the typical small businesses and startups alike. If you are considering investing in urethane parts for your business, there a couple of key reasons why cast urethane parts can really benefit your business and contribute to making your production as efficient as possible. No matter what shape you want your cast urethane parts to be, we can design them for your application by using extreme precision. We can create any No Crush Urethane Wheels or custom cast urethane parts that are up to 30 inches long with a tight tolerance of error in the process. You'll get a cast urethane part that is exactly as your project requires.
Please Contact us for further details about No Crush Urethane Wheels!