Non-marking polyurethane wheel covers are manufactured here at Plan Tech. Made with both hard and soft polyurethane formulations, we have just the right custom wheel for your application. Our non-marking polyurethane wheel covers can be custom made for your machines and can also be used as replacements in your current equipment.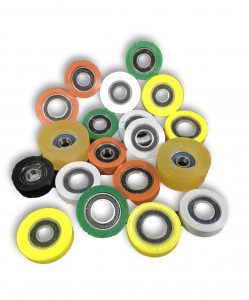 No matter the design, texture, durometer or size, you can trust our engineering department to meet your demands.
With our team of world-class engineers who are among the best in the industry, we guarantee exceptional durability for our non-marking rubber wheel covers.
Our non-marking polyurethane wheel covers:
Resists corrosion
Resists impingement
Has a high tear strength
Has a low coefficient of friction
Help minimize noise, sound dampening
Resists many chemicals, including oil, fuel, and grease
For over three decades, we have been manufacturing non-marking urethane wheel covers that are of premium quality using speed and precision to maintain consistency. Our in-house machine shop is fully equipped with sophisticated machinery, which allows us to be highly efficient with our production process.
Therefore, you can rely on our urethane products for high-performance ability and long service life. Over the years, we have become very specialized in producing top-notch non-marking rubber wheel covers, and hence, we are capable of meeting the requirements of whatever application you demand in record timing. Polyurethane is very similar to a rubber or plastic. Unlike nylon or UHMW, urethane can be compounded to produce very soft parts, as low as 20A Durometer, or up to very hard, 75D Durometer. Polyurethane is ideal in high demand applications were normal rubber would fail. The directory of test methods for cast urethane parts that are specified by ASTM are (a specific test method could vary):
Tension:  (ASTM D412) Tension strength is commonly measured by pounds per inch in America. For example, rubber has a tensile strength of 2030 psi while comparable hardness urethane has a 3250 psi.
Are you interested in Non-Marking Polyurethane Wheel Covers? Please Contact us so we can help solve your requirements and work with you on your specific application!