Non-marking polyurethane wheels like all of the other cast urethane parts that we manufacture in our well-equipped cast urethane facility utilize polyurethane resins produced by chemical manufacturers who are leaders in their industry. Our engineers who are the best at what they do are capable of producing non-marking polyurethane wheels that meet the requirement of any application. We cast the urethane into a mold to make a part and machine it using our world-class urethane facility.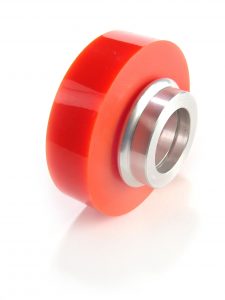 We are renowned for being one of the largest producers of non-marking polyurethane wheels in the industry, and that is due to our ability to manufacture the product in high volume at a swift turnaround. However, to ensure quality is not compromised while meeting the demands of our numerous customers, we apply speed and precision. So, no matter what the requirements of your application are, you can count on us to meet your demand a high level of quality and efficiency. Our non-marking polyurethane wheels offer high-performance ability and long service life. They are capable of resisting wear, abrasion, and chemicals as well as withstand the harsh environment. You can count on our highly skilled engineers to handle your non-marking polyurethane wheels project from design to the finished product.
Molded polyurethane parts are designed by our engineers from our in-house machine shop from an AutoCAD. We apply different molding design operations utilizing compression molding and rotational force for the manufacture of our Non-Marking Polyurethane Wheels and molded polyurethane parts. Opencast molds are the most common and are typically made from aluminum that consists of many pieces and parts; this ensures the finished product, are high performance and tight tolerance molded polyurethane parts. To guarantee performance, we utilize only world-class polyurethane materials from globally recognized chemical producers. And we are renowned for being the industry's biggest manufacturers of first-rate molded polyurethane parts.
Please Contact us for further details regarding custom molded polyurethane parts!