Polycoated bearings are cast directly to high-quality bearings of any size in high volume using a mold system that has been proven for the last 30 years at Plan Tech. Each bearing will be processed in our clean room to ensure a bond strength greater than the polyurethane material. After de-greasing each bearing will be media blasted with an abrasive grit to provide and leave a textured finish to promote a secure bond strength.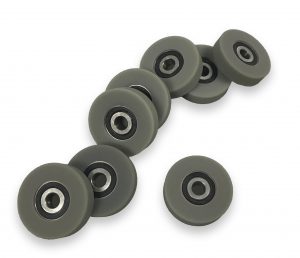 Plan Tech has made many custom rotisserie's to rotate bearings during media blasting and a separate rotisserie station for spraying bonding agent into the bearings. This allows Plan Tech to process polycoated bearings in high volume, each year we processed millions of polycoated bearings! Plan Tech purchases its bearings from world leading in bearing manufacturers that are specialized in all types of industrial bearings. Customer supplied bearings are also no problem for us if special requirements are necessary.
Any hardness polycoated bearing coating is also available with our full in-house machine shop secondary's. Each bearing will be machined to ensure consistency and to be able to match any profile needed for the application. Special additives may be requested to enhance lubricity properties or to add abrasion resistance. Antistatic urethane and FDA approved formulas with x-ray detection are available upon request.
For over 30 years Plan Tech has focused on using speed and precision to manufacture the highest quality industrial cast polycoated bearings to our customers. A particular strength is the breadth of our in-house capabilities such as grinding urethane parts which, when combined with our extensive experience, enables us to deliver tight tolerance custom urethane polycoated bearings while maintaining the quality control and cost effectiveness our customers require. The tests are performed according to an established set of standards provided by an accredited testing organization such as the Society for Testing and Materials (ASTM) who define the procedures in detail.
Please Contact us for further details regarding polycoated bearings!