Polyurethane acorn rollers are available in both a square and round bore. Plan Tech offers high-quality polyurethane acorn rollers which have proven to be some of the best on the market. We make use of a proprietary blend of polyurethane that ensures consistent, high-quality products that loyal Plan Tech customers demand.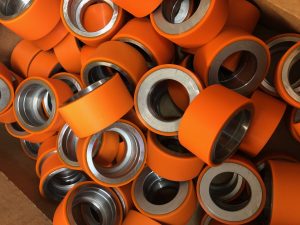 It doesn't matter the profile or design you require; you can trust our technical department to meet your demands. With our team of world-class engineers who are among the best in the industry, we guarantee exceptional durability for our polyurethane acorn rollers.
You can count on Plan Tech's acorn rollers for outstanding performance in both your dirt elimination and sizing applications. For over three decades we have been manufacturing polyurethane acorn rollers that are of premium quality using speed and precision to maintain consistency. The Plan Tech facility and machine shop is fully equipped with sophisticated machinery which allows us to be highly efficient.
Therefore, you can rely on our polyurethane acorns rollers for high-performance ability and long service life. Over the years, we have become very specialized in producing top-notch polyurethane acorns rollers, and hence, we are capable of meeting the requirements of whatever application you demand in record timing. Plan Tech strives to use the latest in design software technology for the designing of complex urethane molds. We utilize SolidWorks to design all of our open face and compression molds per customer specifications. When we have completed our design that has been approved by the customer we machine them using CAMWorks at our in-house machine shop. This creates a faster "concept to production" environment to produce superior parts for our customers. Below is a list of the software used for designing urethane molds:
PTC Creo:  PTC Creo formerly known as Pro/ENGINEER, is a 3D CAD/CAM/CAE feature-based, associative solid modeling software. PTC Creo is one of a suite of 10 collaborative applications that provide solid modeling, assembly modeling, 2D orthographic views, finite element analysis, direct and parametric modeling, sub-divisional and NURBS surfacing, and NC and tooling functionality for mechanical designers.
Are you interested in cast Polyurethane Acorn Rollers? Please Contact us so we can help solve your requirements and work with you on your specific application!