Polyurethane bearing adapters are manufactured at Plan Tech from high-quality materials produced by world-renowned chemical companies. Like all other urethane products produced in our state of the art in-house cast polyurethane facility and machine shop. Our team of engineers who rank among the best in the industry apply both speed and precision which allow us to meet the high volume demands of our customers within a short period and without compromising quality.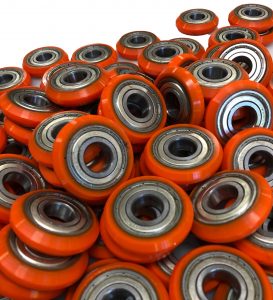 The physical properties of the polyurethane bearing adapters we manufacture offer unbeatable quality that makes them second to none you can find anywhere else on the market. With our rubber bearing adapters, you can be certain of urethane products that offer remarkable resistance to wear, harsh chemicals, corrosion, and abrasion.
Also, our urethane bearing adapters are renowned for their excellent performance ability, which allows them to maintain their optimal efficiency even after long years of service. It doesn't matter what the conditions of the environment of application is, our polyurethane bearing adapters have been tested and proven to be able to withstand harsh environmental conditions as well as weather extremities.
Having been in the business of producing some of the best urethane products for more than 30 years, our customers can always count on us to meet their requirements. Polyurethane is very similar to a rubber or plastic. Unlike nylon or UHMW, urethane can be compounded to produce very soft parts, as low as 20A Durometer, or up to very hard, 75D Durometer. Polyurethane is ideal in high demand applications were normal rubber would fail. The directory of test methods for cast urethane parts that are specified by ASTM are (a specific test method could vary):
Durometer Hardness:  (ASTM D2240)  Durometer is one of the several measures of the hardness of a material. Higher numbers indicate harder materials; lower numbers indicate softer materials.
Are you interested in Polyurethane Bearing Adapters? Please Contact us so we can help solve your requirements and work with you on your specific application!