Polyurethane bearings also known as bearing with a tire offer greater physical properties than rubber and similar materials with the options for any bearings or OD profile. Custom cast at Plan Tech in high or low volume polyurethane bearings are available in any size or color. While most polyurethane bearings are covered in a 95A hardness for a smooth and quiet operation any hardness or color is available.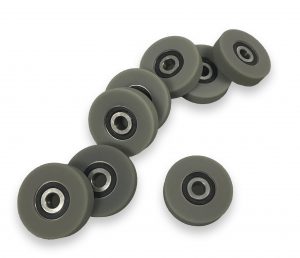 Polyurethane has better abrasion and tear resistance than rubber while also being chemical resistance. Plan Tech can supply high-quality bearings from world leading bearing manufacturers in any size configuration for bolt on replacements or special applications. Each bearing will be individually processed in our clean room for metal preparation. Taking this extra step produces a bond strength unlike any other polyurethane bearings on the market. Our high strength bonding adhesive that is applied to each bearing after being media blasted will ensure a quality bond that will not delaminate.
Plan Tech supplies millions of custom polyurethane bearings each year mainly for the distribution and shipping industry. Other industries include the car manufacturing, excess equipment, and custom woodworking. Whatever your application is Plan Tech will suggest the best material for the job and can machine or mold any profile OD needed for success.
Manufacturing polyurethane bearings that effectively incorporate a metallic or non-metallic component requires a superior method for achieving a bond between the urethane and the substrate. Here at Plan Tech, we have developed preparation methods to consistently apply specially formulated urethane adhesives. Our proprietary equipment for cleaning, preparation, automated adhesive spray application and automated drying ensures a consistently high strength bond between the urethane and the substrate.
Over the past three decades we have adhered cast urethane to millions of parts with an outstanding record of part performance in demanding applications. Some of the materials that we bond to include:
Steel
Aluminum
ABS Plastic
UWMW PE
Fabric
Fiberglass
Bronze
Felt
Please Contact us for further details regarding polyurethane bearings.