Polyurethane bushings for automotive industry are used because of their durability and light weight, combined with their strength. Polyurethane bushings for the automotive industry are ideal for cushioning purpose and can also be used within the bodies of cars. The insulation properties protect the parts against the heat and noise of the engine. More so polyurethane bushings offer long run durability and extreme resistance to harsh environments of water, heat, solvents, chemicals, and abrasion.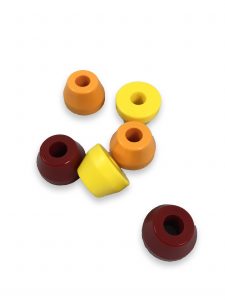 Plan Tech engineers carefully manufacture polyurethane bushings for the automotive industry by ensuring that the product's mechanical speed, pressure, and the temperature is fully considered. Engineers in the automotive industry prefer polyurethane bushings over plastic or rubber because of their long wear, superior performance, and increased fuel economy. In addition, Plan Tech uses the polyurethane bushings in the manufacture of high–resilience foam seating, rigid foam insulation panels, B-pillars, headliners, suspension insulators, bumpers and other interior and exterior parts of the automobile.
Are you in need of smart, state-of-the-art products ranging from the interiors, exteriors and engine compartments of your automobile? Plan Tech is the best to work with; we also produce custom made polyurethane suspension bushings of different texture, size, and color depending on your specifications. Plan Tech a leader in cast urethane manufacturing, process's urethane additives from the world's leading chemical companies. Whether its enhanced lubricity for high abrasion resistance applications or for anti-static wheels for shoppers who don't want to be zapped touching a metal cart. Having more than 30 years experience in the polyurethane industry provides Plan Tech the specific knowledge of incorporating polyurethane additives:
Enhanced Abrasion Resistance Urethane Additives: Inhance Technologies continually advances our unrivaled expertise in transforming commodity and engineering plastics and composites into high-performance materials. Add Inhance Product series particles to polyurethanes, epoxies, rubber, and other polymers to create composites that capture the unique benefits of UHMWPE without the processing difficulties posed by virgin UHMWPE. These benefits include superior abrasion resistance, reduced coefficient of friction.
Are you interested in custom Polyurethane Bushings For Automotive Industry? Please Contact us so we can help solve your requirements!