Polyurethane cable protectors as a means of cable management have become essential to protect both pedestrians and cables alike. Whether it is for the modern office, warehouse, vehicles, etc. we've got you covered.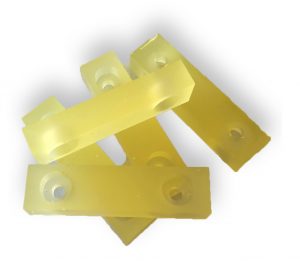 Polyurethane cable protectors are one of our numerous signature products. Like all of the other urethane products, we make use of high-quality materials from globally renowned producers during the manufacturing process. We also have one of the most extensive selections to choose from, because, with more choices, there is a better chance in finding the right polyurethane cable protector for your application.
We are more than capable of producing polyurethane cable protectors that meet the requirement of any demand or specification. You are, therefore, certain of finding that specific profile you desire from our list of standard rubber cable protectors.
We maintain the quality of our urethane cable protectors by producing with a high level of precision, and it does not matter how fast you want your products ready, you can count on us to make it ready in recording timing without compromising quality.
All of our products, including our polyurethane cable protectors, are renowned for their impressive wear resistance ability, abrasion and chemical resistance as well as their outstanding capability to withstand harsh environments. Polyurethane resin is considered versatile because it can be used to produce a wide variety of industrial parts, from urethane molded bearings to urethane-coated rollers. This is possible because the urethane resin can be processed to great extremes, which can customize physical properties such as the durometer and elasticity. In many cases, it's produced in a liquid form and can be poured into aluminum molds also known as cast urethane.
There are many advantages to polyurethane resins. They are known for their chemical, oil, and grease resistance, and are typically excellent at resisting abrasion and, as such, are not easily torn. This can explain why they are often used to produce synthetic rubbers. Here is a world-renowned polyurethane supplier:
Anderson Development Company: Anderson Development Company is a cutting-edge specialty chemical manufacturer. Anderson Development Company is committed to providing value-added solutions through our intense focus on helping our customers succeed.
Are you interested in Polyurethane Cable Protectors? Please Contact us so we can help solve your requirements and work with you on your specific application!