Polyurethane cable saddles are used for supporting cables and hoisting in various applications.  Plan Tech's polyurethane cable saddles come in different diameter, weight, length and choker capacities.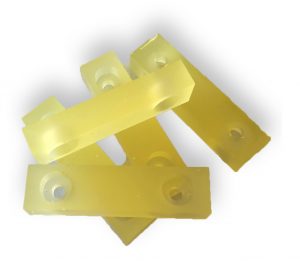 Plan Tech only uses pure polyurethane in the production of rubber cable saddles because it significantly outperforms rubber and steel.
Some leading characteristics properties of polyurethane include:
High tensile strength
Compression strength
Abrasion resistance
Performs well for hardness
Excellent Tear strength
Resistant to harsh environment
Excellent load bearing capacity
Excellent impact resistance
Excellent noise abatement
Features of Plan Tech's Polyurethane Rubber Cable Saddles:
Tightens its grip as the cable is being hoisted
Use when cable support is critical
Highly visible
Lightweight, easy handling
Sling is constructed of two-ply latex treated webbing
Non- skid internal surface to retain cable
Designed to meet the minimum bending radius of the cable
Prevents cable damage to improper handling
Used around the world in extreme mining operations
Use when cable support is critical
Strong, hardwearing and flexible polyurethane
Custom made rubber cable saddles
Cost-effective
With over 30 years of experience in the manufacture of urethane rubber cable saddles and other urethane related products, we offer you the best quality in the world to meet your machinery demand. Plan Tech a leader in cast urethane manufacturing, process's urethane additives from the world's leading chemical companies. Whether its enhanced lubricity for high abrasion resistance applications or for anti-static wheels for shoppers who don't want to be zapped touching a metal cart. Having more than 30 years experience in the polyurethane industry provides Plan Tech the specific knowledge of incorporating polyurethane additives:
Flame Retardant Urethane Additives: PAG is a well-established manufacturer and global supplier of flame retardants and smoke suppressants for polyurethane applications warehousing material throughout the United States, PAG is able to respond to customers in a timely fashion and provide cost savings. PAG Holdings is committed to providing the highest quality products with unsurpassed service.
Are you interested in cast Polyurethane Cable Saddles? Please Contact us so we can help solve your requirements and work with you on your specific application!