Polyurethane cams are one of the many premium quality urethane parts we cast in our fully equipped polyurethane facility and in our in-house machine shop using our state of the art machinery. We utilize world-class quality polyurethane resin from globally renowned chemical and polyurethane suppliers. And a team of engineers who are technical experts that apply speed and precision for the manufacture of our polyurethane cams which enable us to meet high volume demand in short turn around without compromising quality.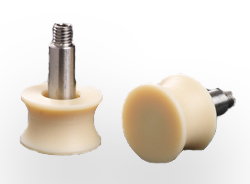 Our polyurethane cams like all our other urethane parts are renowned for their outstanding performance capability. Their ability to resist wear, abrasion, corrosion, and chemicals as well as withstand harsh environmental conditions is very remarkable all of which combine together to give them long service life. To cast our polyurethane cams, our technicians go through a high level of molding process which allows us to meet the requirements of any application. Therefore, no matter the durometer or profile of polyurethane cams you seek, we are more than capable of meeting your demand because our engineers have the technical ability to have the cams covered in any hardness. So, you can be assured of finding whatever profile of molded urethane cams you seek because we have a line of standard cams which makes us the go-to company where your cams' application specification requirements can be met.
Manufacturing custom polyurethane cams that effectively incorporate a metallic or non-metallic component requires a superior method for achieving a bond between the urethane and the substrate. Here at Plan Tech, we have developed preparation methods to consistently apply specially formulated urethane adhesives. Our proprietary equipment for cleaning, preparation, automated adhesive spray application and automated drying ensures a consistently high-strength bond between the urethane and the substrate. Over the past three decades we have adhered cast urethane to millions of parts with an outstanding record of part performance in demanding applications.
Please Contact us for further details or to answer your questions about polyurethane cams!