Polyurethane carrier bearings are custom cast in high volume for many different applications. One of our customers that we supply polyurethane carrier bearings to uses them for a drive axle for a large piece of machinery.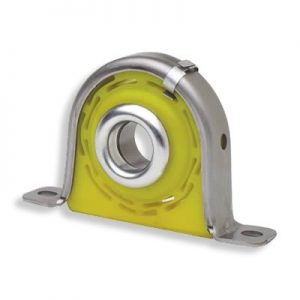 Plan Tech can produce any size or profile polyurethane carrier bearings that are needed for the application. Typically cast from a 90A material the polyurethane will absorb an impact or vibration and rapidly return to its original size even after years of abuse in any environment. Automotive manufacturers also use carrier bearings in many automotive applications. Polyurethane is an ideal choice vs rubber due to the physical properties of polyurethane have a much greater service life vs rubber carrier bearings.
Plan Tech can mold high volume polyurethane carrier bearings with little to no startup cost in any hardness needed. Tight tolerances are no problem for us and we have a full line of secondary operations available if needed. Most polyurethane carrier bearings do not need any secondary and are capable of producing thousands per month to suit the needs for any application. We also offer reverse engineering services on existing carrier bearings and well as reproducing worn out discounted bearings that are no longer available. Polyurethane carrier bearings are available in any hardness or color at Plan Tech with rapid prototypes available.
For over 30 years we have focused on using speed and precision to manufacture the highest quality industrial custom urethane parts to our customers. A particular strength is the breadth of our in-house capabilities such as grinding urethane parts which, when combined with our extensive experience, enables us to deliver tight tolerance urethane molded parts while maintaining the quality control and cost effectiveness our customers require. The tests are performed according to an established set of standards provided by an accredited testing organization such as the Society for Testing and Materials (ASTM) who define the procedures in detail.
Please Contact us for further details regarding polyurethane carrier bearings!