Polyurethane check valves are one of the high precision polyurethane products we manufacture in our fully equipped in-house machine shop using our state of art facilities. We manufacture polyurethane check valves using the best polyurethane materials in the industry. Also, our team of highly skilled engineers are well vast in the art of creating polyurethane check valves that are of world-class quality.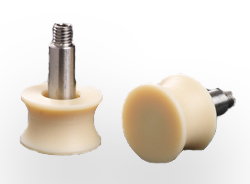 Polyurethane check valves are used in pumps to improve pump performance. They also help pumps operate quietly and efficiently which makes polyurethane check valves the best option for check valves. Although polyurethane check valves are simple devices, they serve an important purpose in many pneumatic-control circuits or equipment. Generally used in systems with limited or no backflow, urethane check valves allow free flow in one direction and in most cases block flow in the opposite direction. They can also be used as a bypass valve, allowing media around other components in the system.
Our poly check valves offer maximum resistance to abrasion, cutting, fatigue, corrosion, and chemicals, yielding superior performance and long service life in extremely harsh environments. Manufactured in a variety of diameters and durometers, our team of engineers can meet even the most stringent requirement, so no matter the industrial application you can rest assured Plan Tech has got you covered.
Tight Tolerance Polyurethane Check Valves
The advantages of urethane far outweigh those of metals and plastics. Here some of the advantages urethane holds over metal and plastic below:
Urethane vs Metals and Plastics
This is one advantage urethanes hold over metals that require no debate. While metals are generally renowned for their remarkable ability to produce noise, polyurethanes, on the other hand, absorb noise thereby preventing it.
Not even plastics and metals can resist significant impact like urethanes. Where urethanes can offer an outstanding load-bearing performance, most plastics and metals will succumb to the shock and impact of higher loads and eventually break down.
Better than metals and plastics, urethanes are capable of maintaining their high-performance ability such as their elasticity, etc., even under such temperature extremity that is below -60°F.
Are you interested in polyurethane check valves? Please Contact us so we can help solve your requirements!