Polyurethane coated bearings are manufactured at Plan Tech from world-class materials produced by suppliers who are well-known leaders in their industries.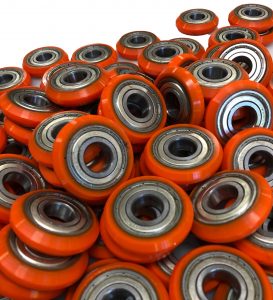 As is the case with all our urethane products, our engineers whose technical expertise is second to none in the industry leaves no stone unturned in ensuring that the polyurethane coated bearings manufactured at Plan Tech are of unbeatable standard. Our engineers apply speed and precision during the production of our rubber coated bearings to ensure that we are able to meet the high volume demands of Plan Tech's numerous customers within and outside of the United States.
We are America's go-to producer for urethane bearings and we consistently manufacture the best that offer the very highest in quality and performance. No other manufacturer in the industry can boast of a better team of highly skilled engineers that can handle your polyurethane coated bearings project in an entirely satisfactory fashion.
So, regardless of the size, diameter, durometer or color you can trust in us to deliver a finished product that will distinctively meet and or exceed your demands. Some of the advantages offered by Plan Tech's polyurethane-coated bearings include outstanding ability to perform optimally in extreme weather conditions and resist abrasion, harsh chemicals, etc. Plan Tech also has an outstanding team of dedicated employees with exceptional talents designing and manufacturing complex tight tolerance urethane parts. We also are very proud of the "company we keep." Our customers include many Fortune 500 companies, most of whom have been customers for 20+ years. Their drive to become industry leaders has helped us do the same.
Whether you are a start up company or global leader, we can add value to your products with our strong engineering support, urethane polymer experience and constant focus on meeting all delivery requirements. Our rapid prototyping capabilities have also received particularly positive feedback – we frequently go from "Print to Part" in 10-15 business days – Everything we manufacture is MADE IN THE USA!
Are you interested in custom polyurethane parts? Please Contact us so we can help solve your requirements and work with you on your specific application!