Polyurethane cradle rollers have found their way to various industries around the globe especially in the agricultural sector for the production of plants. Our team of highly talented engineers is masterfully skilled in the art of manufacturing top-grade polyurethane cradle rollers that boast long service life, remarkable abrasion resistance, superior wear properties and impressive stability in harsh environments.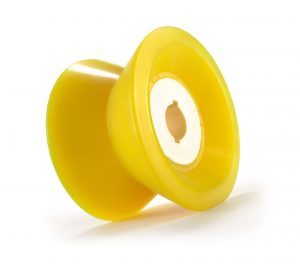 We utilize only the best of materials from globally renowned chemical producers for the manufacture of our urethane parts or products, and that explains the reason our polyurethane cradle rollers are of top-notch quality. We boast a team of technicians who are well skilled in the art of adding urethane coating to urethane cradle rollers, and this is what guarantees the long service life of our feed rollers because the added urethane coating keeps the product safe from damage by eliminating the steel contact. Like all our other products, we utilize speed and precision for the manufacture of our polyurethane cradle rollers which makes them rank among the best cradle rollers in the industry. Our polyurethane cradle rollers are none marking and provide a quiet and smooth operation even after being used for several years. With the use of urethane, our engineers can custom make your cradle rollers to any desired profile that meets the requirement of the product to be feed.
Bonding urethane to metal is at the core of Plan Tech's capabilities. We continuously test our bonding urethane to metal process across thousands of parts to destruction ensuring our customers are achieving the best urethane bond to metal possible. We have the latest Albert tensile testing equipment for precise peel test requirements on soft durometers. Another critical piece of bonding urethane metal are the facilities. We have a 5,000 square foot dedicated clean room dedicated for bonding urethane to metal. Even the air pressure inside the cleanroom is precisely measured to ensure only fresh air is being pumped and heated at all times. All metal cores and parts such as polyurethane cradle rollers are degreased and washed before they enter one of our many media blasters. Most parts will then go on a rotary and automatic spraying equipment to ensure an even perfect coat of bonding agent. This level of detail allows us to handle any volume of bonded polyurethane cradle rollers. Every detail down to what our employees wear in and out of the metal preparation department is closely monitored to ensure no contamination enters.
Please Contact us for further details regarding polyurethane cradle rollers!