Polyurethane cutting bars manufactured by Plan Tech in our custom equipped in-house machine shop, are made from urethane materials that are of premium quality. With our state of the art facilities and our highly efficient team of engineers who rank among world-class engineers, we are capable of producing custom polyurethane cutting bars that meet any of you desired application requirements.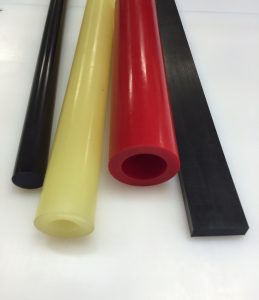 We boast a 30 years' experience of manufacturing high-quality polyurethane cutting bars and we are renowned in the industry for high volume production of urethane products at a fast turnaround utilizing speed and precision to ensure consistency in quality and rate of delivery. Our polyurethane cutting bars are available in different colors or durometer, and they possess remarkable physical properties such as enhance wear resistance, high chemical and abrasion resistance as well as an impressive capability to withstand harsh environmental condition.
Overall, our polyurethane cutting bars are highly dependable due to their ability maintain their high-performance ability even after years of being repeatedly utilized. We also carry a variety of special custom polyurethane additives which we add on demand to enhance the physical properties of the product. With our team of engineers who possess special technical abilities, you can trust us to adequately handle your polyurethane cutting bars from design to finished products that depict quality.
We create complex molds for our in-house use as well as many of the components that are molded into customer products. Molds are machined from aluminum or tool steel depending upon tool life requirements. The inserts and cores that we manufacture are made from a wide variety of metals and plastics including UHMW PE, ABS, aluminum and steel. The machining of custom polyurethane cutting bars and components requires special skills and dedicated equipment. In many instances, we have developed custom equipment for cutting, trimming, staking and deburring per our customers' requirements.
Please Contact us for further details regarding cutting bars!