Polyurethane cutting edges can be applied as truck mounted plow blades, ATV, skid loaders, and bucket-mounted equipment. The polyurethane cutting edges help to protect hard and smooth surfaces such as pavements and cobblestone. More so they have more lifespan when compared to rubber cutting edges and helps to reduce the damage done to in-ground runway lights.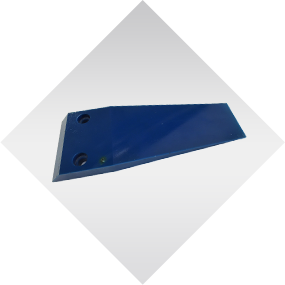 Plan Tech manufactures rubber cutting edges which are suitable for use in snow removal companies, Airports, conveyor belts and state highway departments. Our cutting edges are carefully produced to last longer against abrasion and withstand freezing temperatures. Plan Tech manufactures polyurethane cutting edges of different sizes and we also produce custom made polyurethane cutting edges based on the specific needs of our client.
Why choose Plan Tech Cutting Edges?
Poly cutting edges are cost effective because they do not damage easily when compared to rubber cutting edges.
High durometer cutting edges absorb impacts and easily blends to the surface being plowed rather than damaging it.
Rubber cutting edges are suitable for use on concrete, brick, cobblestone, pavers, parking garages and other similar surfaces.
Polyurethane edges are very quiet in operation, making them ideal for use in hospitals and residential areas.
Plan tech manufactures cutting edges to meet your specifications and requirement. Our team of engineers with over 30 years of experience ensures that the best formulations are used in order to get the desired performance. Plan Tech a leader in cast urethane manufacturing, process's urethane additives from the world's leading chemical companies. Whether its enhanced lubricity for high abrasion resistance applications or for anti-static wheels for shoppers who don't want to be zapped touching a metal cart. Having more than 30 years experience in the polyurethane industry provides Plan Tech the specific knowledge of incorporating polyurethane additives:
High Durometer Urethane Additives:  Air Products Founded in 1940 provides world leading food curative that can be used in the manufacture of polyurethane elastomers intended to contact dry food. Air Products has built a reputation for its innovative culture, operational excellence.
Are you interested in cast Polyurethane Cutting Edges? Please Contact us so we can help solve your requirements and work with you on your specific application!