Polyurethane drive rollers of all shapes and sizes are manufactured by Plan Tech from a simple sketch or existing part. Our team of engineers will work with you on every detail of your industrial polyurethane drive rollers. Most common polyurethane drive rollers consist of a steel shaft that is longer than the urethane roller with a keyway.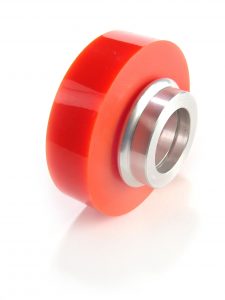 Plan Tech has a state of the art machine shop on site capable of making the steel or aluminum cores with a keyway or broached keyway in high volume or prototype pieces. After each steel core is inspected it will enter our clean room where it will be completely degreased and media blasted one of our custom rotisserie's to ensure a quality consistent media blast before the chemical bonding agent is applied also by automated equipment.
Polyurethane drive rollers are hand cast into molds and frequently are cast oversized to allow for machining after the polyurethane is finished curing. Plan Tech has also built several specialized custom CNC grinding equipment capable of machining polyurethane drive rollers at a rapid pace with a tight tolerance of +/-.005. Using our unique special blend of coolant we do not deep freeze any of our parts before grinding and are able to machine them at room temperature to ensure quality material and an extremely tight tolerance. A full line of additives is also available upon request to enhance the physical properties for the application or to be FDA compliant.
Whether you are a start-up company or global leader, we can add value to your products with our strong engineering support, polyurethane polymer expertise and constant focus on meeting all delivery requirements. Our rapid prototyping capabilities have also received particularly positive feedback – we frequently go from "Print to Part" in 10-15 business days! Everything we manufacture is MADE IN THE USA!
Please Contact us for further details about polyurethane drive rollers!