Polyurethane drive sprockets are extremely popular but are hard to find in special profiles and sizes. This is where Plan Tech is here to help. Custom sizes or high volume polyurethane drive sprockets are our specialty. Frequently Plan Tech can rapidly produce compression molds for any size polyurethane drive sprockets to be able to adapt to a special size or to replace drive sprockets that are no longer commercially available.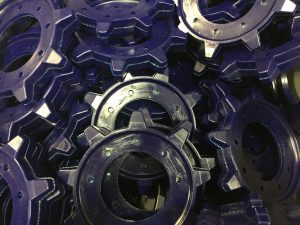 Plan Tech produces hundreds of thousands of polyurethane drive sprockets around the world each year for a large variety of applications. Most commonly we hear our sprockets drive a track in food processing equipment on large machinery. Urethane is ideal due to its great ability to absorb an impact and return to its original size even after years of abuse. Polyurethane drive sprockets will also adapt to any slight mismatch in the operation or any debris that might get caught in between the sprocket and track. Most commonly we have found 50D hardness sprockets will have extended service life with great physical properties. FDA tight tolerance polyurethane drive sprockets are also available with additives like PolyMag available to make the polyurethane detectable in existing X-ray equipment in case of a failure. Plan Tech can also fabricate any hubbed cores or metal inserts for the complete sprocket. Each metalcore or hub will be media blasted with a coating of chemical bonding adhesive before it is molded to ensure a bond strength greater than the tear strength of the material. Our engineering department can turn your idea, sketch, drawing or CAD file into custom polyurethane drive sprockets.
Our engineering department can turn your idea, sketch, drawing or CAD file into custom polyurethane drive sprockets. We will reverse engineer to recreate any urethane part for production or one-off urethane pieces.The engineering department utilizes SolidWorks and our machine shop uses CamWorks for 3 axis milling. Our equipment includes CNC mills, lathes, polyurethane grinders as well as a state of the art urethane waterjet cutting machine. Secondary equipment includes sheet metal, welding, grinding, automated cutoff, broaching and more. We offer complete manufacturing capability for the inserts or cores required for urethane rollers, wheels, bearings and all of your custom urethane parts.
Please Contact us for further details or to answer your drive sprockets design questions!