Polyurethane elevator tires are one of the urethane products that find applications in the different industrial applications across the globe. The polyurethane elevator tires that we manufacture at Plan Tech in our world-class cast polyurethane facility are made from the best in quality urethane materials produced by globally renowned chemical manufacturers. And we always use speed and precision for the production of our polyurethane elevator tires to allow us to maintain consistency in quality as well as meet the high-volume demand of our various customers at a fast turnaround.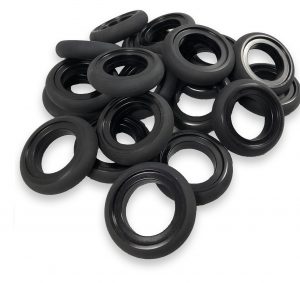 Our polyurethane elevator tires offer impressive chemical properties such as their remarkable ability to resist wear, chemicals, abrasion, and more. We have them available in different colors and profiles hence; you can be sure of finding your exact specification from our line of standard polyurethane elevator tires. Also, you can trust our highly talented team of engineers to transform your sketch, drawing or idea of polyurethane elevator tires a master-quality polyurethane product. We have specialized additives which we add on demand to further enhance the physical properties of our elevator tires such as improved lubricity and reduction of static buildup. With us, you are confident of finding the solution to all polyurethane elevator tires' requirements because we are the go-to company where all urethane needs are met.
Molded polyurethane parts are designed by our engineers from our in-house machine shop from an AutoCAD. We apply different molding design operations utilizing compression molding and rotational force for the manufacture of our molded polyurethane parts. Opencast molds are the most common and are typically made from aluminum that consists of many pieces and parts; this ensures the finished product, are high performance and tight tolerance molded polyurethane parts. There are many advantages that urethane has vs metal and plastic with our custom molded polyurethane parts! Tight tolerance molded polyurethane parts have been manufactured at Plan Tech for over 30 years!
Please Contact us for further details regarding custom molded polyurethane elevator tires!