Polyurethane escalator wheels are one of the numerous urethane products with massive load-bearing capacity, and they are manufactured with an excellent level precision. Our highly efficient team of engineers are capable of casting the product in different shapes, colors, and durometers. We only make use of the best in quality urethane materials for the production of our polyurethane escalator wheels, and as a result, the quality of their physical property is second to none. Our polyurethane escalator wheels provide outstanding resistance against wear, corrosion, abrasion, and chemicals. And they are also renowned for their remarkable ability to withstand unfavorable environments.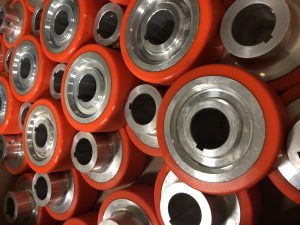 With our world-class in-house machine shop that is fully equipped and Plan Tech's state of the art urethane facility with our engineering team who boast exceptional technical prowess. We are capable of meeting the demands of our numerous customers regardless of the requirement of their applications. Our team of technicians has the technical know-how to cast different profile of polyurethane escalator wheels. And we always apply speed and precision in the manufacture of our polyurethane escalator wheels which enable us to meet the high-volume demands of our clients at a fast turnaround without compromising quality. Therefore, you can count on us to transform your sketch, drawing or idea of polyurethane escalator wheels into world-class products.
We stock a large variety of special additives which we add to improve the physical properties of our molded polyurethane parts. All of our molded polyurethane parts possess the ability to return to their original shape after absorbing high impact, and they retain this ability even after they have repeatedly been abused for years. There are many advantages that urethane has vs metal and plastic with our custom molded polyurethane parts! Tight tolerance molded polyurethane parts have been manufactured at Plan Tech for over 30 years!
Please Contact us for further details regarding custom molded Polyurethane Escalator Wheels!