Polyurethane feed rings are made from a high-quality TDI material and are available in different profile for industrial applications of various kinds. Our polyurethane feed rings are available in any color or durometer, and they are a perfect fit all sizes of your custom application. We have special additives which we can also add to the urethane materials to boost their abrasion resistance or wear properties albeit on your request.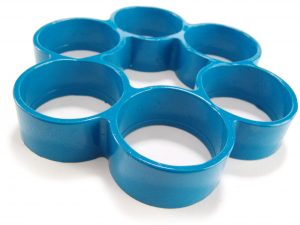 Although, polyurethane feed rings are traditionally circular we are, however, capable of customizing the shape of our feed rings to meet the requirements of different applications. You can also rely on us to custom make your polyurethane feed rings in any hardness needed for your feed rings and the entire process of production from the design to the manufacture is controlled by our highly skilled engineers. The making of molds which are machined from aluminum or steel holds center stage in our production. CNC Lathes, Mills and Grinders for machining cast urethane parts are all part of our machine shop. And we are also equipped with manual mills welding area and sheet metal. Therefore, our state of the art facility coupled with our highly dedicated team of professionals makes us the ideal solution to all of you urethane needs especially when manufacturing polyurethane feed rings.
Whether you are a start-up company or global leader, we can add value to your products with our strong engineering support, urethane polymer experience and constant focus on meeting all delivery requirements. Our rapid prototyping capabilities have also received particularly positive feedback – we frequently go from "Print to Part" in 10-15 business days! Everything we manufacture is MADE IN THE USA. Plan Tech also has an outstanding team of dedicated employees with exceptional talents designing and manufacturing polyurethane feed rings and custom urethane molded parts. We also are very proud of the "company we keep." Our customers include many Fortune 500 companies, most of whom have been customers for 20+ years. Their drive to become industry leaders has helped us do the same.
Please Contact us for further details regarding polyurethane feed rings!