Polyurethane gasket manufacturers have recognized Plan Tech as one of the leading manufacturers of high-quality urethane gaskets. Whether all you have is an idea, a drawing or a detailed design, our team of engineers are ready to bring that concept to life. Additionally, if you need us to reverse engineer from a sample part, we can also get the job done and on-time. Our state of the art polyurethane mixers, high flow computerized facilities and full-service machine shop help us avoid defects and ensure speedy delivery.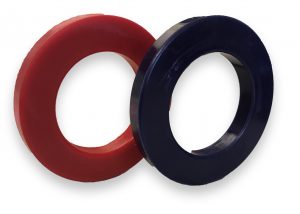 As one of the pioneers in the industry today, we know what it takes to be one of the best polyurethane gasket manufacturers. We offer precision cutting and guarantee high-performance polyurethane gaskets at competitive pricing. Being one of the leaders amongst other polyurethane gasket manufacturers, our company's reputation for excellence has been built on our ability to provide polyurethane gaskets with excellent abrasion, chemical, and corrosion resistance. Our polyurethane gaskets also offer noise reduction, are resistant to oil and are non-marking to help protect painted components and smooth surfaces.
Polyurethane gaskets are manufactured, maintained and made available in a wide range of shore hardnesses. They can also be custom made to meet any requirement or application (flame retardant and anti-static properties). Below are some of the benefits and advantages of polyurethane:
Abrasion Resistance
Polyurethanes are the perfect choice for applications against severe wear regardless of low temperature. For some decades now, they have been the most used materials for environments that are highly abrasive owing to their super ability to resist abrasion. No other form of elastomers, metals, and plastics has a better abrasion resistance than polyurethanes. Their abrasion resistance ability is rated to be 10 times better than what other materials can provide.
Oil and Chemical Resistance
Like their abrasion resistance ability, the properties of polyurethane materials are highly capable of resisting oil and chemicals. This enables them to maintain stability (with minimal swelling) in water or oil etc. If you are looking for elastomer materials to use in subsea, then polyurethanes should be your ideal choice.
Polyurethane Resilience
Resilience is generally a product of hardness. Polyurethanes are the perfect choice for elastomer applications that can absorb shock. They have a high vibration frequency or outstanding ability for quick recovery. Their remarkable resilience ensures polyurethanes are very tough materials.
Please Contact us for further details or to answer your questions about cast polyurethane gasket manufacturers!