Polyurethane grippers from Plan Tech are ideal for industrial grade contact wear points in diverse automation and positioning applications. Since polyurethane is flexible and can be molded into virtually any shape and size, it can be easily formed to round or sharp corners. Polyurethane grippers are highly customizable and are easily replaceable for a wide variety of uses – this means no matter the application, they can be made to your exact specification.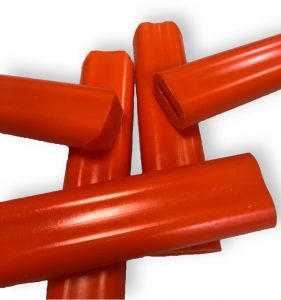 At Plan Tech, standard sizes of polyurethane grippers are available off-the-shelf for designers and end users to make their choice of final size and mounting preparation, or custom sizes made to order. Also, to ease the manufacturing process from start to finish, our polyurethane grippers are designed in-house, and rapid prototyping is made available. Our clients also have the flexibility of having their parts cast to size, die-cut, or machine finished.
We employ a team of dedicated, experienced technicians, chemists, engineers, and sales personnel to assist you in the development of your project from inception to completion. We occupy a modern facility, furnished with state of the art equipment to meet the challenges of your polyurethane gripper project. Whether it is high temperature, FDA or any other specifications that are needed for your application, Plan Tech can provide the custom molded polyurethane grippers that you need for your application.
One important factor about cast urethane parts is that the composition of the parts can easily be manipulated. You can choose whether you want an end product that is rigid, flexible or something that is even similar to rubber with a gummy texture. Our cast urethane parts are even able to be customized by color and additional add-ons (cores/hardware). While black cast urethane parts are the norm, we can make them white, blue, yellow, safety orange, green, etc. Additionally, you can choose whether you want the finishing to be smooth, shiny, or even a custom finish.
Please Contact us for further details about cast polyurethane grippers!