Polyurethane grommets are the ideal grommets for those in the automobile industry owing to their remarkable ability to cope with impact and pressure. We manufacture only the best in quality polyurethane grommets using world-class materials from globally renowned chemical producers.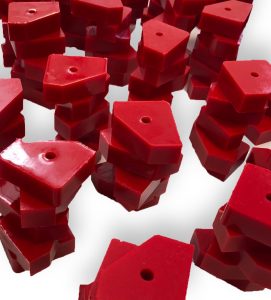 The high performance offered by our polyurethane grommets is second to none in the industry due to the superior physical properties of our parts. Little wonder the majority of our esteemed customers have spoken highly of the outstanding ability of our polyurethane grommets in resisting wear, chemical, abrasion and corrosion. Our polyurethane grommets are also capable of maintaining their top performance in environments where others fail.
Our in-house machine shop which is among the best in the industry is fully equipped with world-class machinery and that is where we make some of the very best urethane grommets the industry has to offer. Our team of engineers is capable of producing rubber grommets that meet the requirements of any specification or profile.
Having produced countless of rubber grommets, we are proud to say that we are one of the most significant producers of the product. Nevertheless, we prioritize quality over quantity and thus produce high volume urethane parts in record timing. Plan Tech also has an outstanding team of dedicated employees with exceptional talents designing and manufacturing urethane molded parts. We also are very proud of the "company we keep." Our customers include many Fortune 500 companies, most of whom have been customers for 20+ years. Their drive to become industry leaders has helped us do the same.  A particular strength is the breadth of our in-house capabilities such as urethane compression molding and grinding urethane parts which, when combined with our extensive experience, enables us to deliver tight tolerance custom urethane parts while maintaining the quality control and cost-effectiveness our customers require. The tests are performed according to an established set of standards provided by an accredited testing organization such as the Society for Testing and Materials (ASTM) who define the procedures in detail.
Are you interested in Polyurethane Grommets? Please Contact us so we can help solve your requirements and work with you on your specific application!