Polyurethane hubbed drive rollers are one of the quality urethane molded products manufactured by us, and we have them in all different shape and sizes. Be it a simple sketch or existing part, our team of designers will work with you like an extended arm of your workforce on every detail of your polyurethane hubbed drive rollers. Polyurethane hubbed drive rollers mostly consist of a steel shaft with a keyway. We are capable of making in prototype pieces or high volume the steel or aluminum cores with a keyway in our on-site well-equipped machine shop.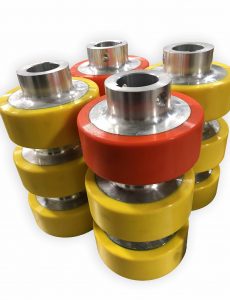 We also have variously specialized tailor made CNC grinding equipment all of which are capable of machining polyurethane hubbed drive rollers at an incredibly fast pace with a tight tolerance of +/-.005. Our special blend of coolant ensures the physical properties of our materials are not destroyed because we don't get to freeze our urethane parts before grinding. Therefore, our materials offer extremely tight tolerance and we have a different variety of additives which we add to the materials upon request to boost their physical properties for any application. Finally, you can count on our MADE IN THE USA keyed polyurethane drive rollers or other products as well as the support of our highly efficient engineering team and fast turnaround to help take your business to the next level.
We frequently mold Polyurethane hubbed drive rollers:
Molding Urethane Parts Open Cast
Open cast molding is the simplest and most common molding method for thermoset polyurethanes.
Advantages: Since pressures and temperatures in the molding process are relatively low (ambient pressure and temps below 250F), the molds are more cost effective and can be made from a variety of materials including polyurethane. Open cast molding urethane parts is good for parts with relatively open tolerances on one surface. If tolerances are tighter, a secondary finishing operation is an option.
Please Contact us for further details regarding polyurethane hubbed drive rollers!