Polyurethane Hubless Drive Rollers are a popular demand across different industries and they are manufactured in our state of the art in-house cast polyurethane facility and machine shop at Plan Tech from first-rate materials produced by globally renowned chemical companies.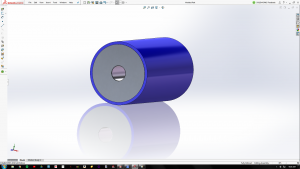 As is the case with every urethane product manufactured at Plan Tech, our team of engineers always employ speed and accuracy which enables us to consistently produce Polyurethane Hubless Drive Rollers that are of unbeatable quality.
So, when you place an RFQ for hubless drive rollers, you can expect nothing short of topnotch quality from Plan Tech – we have been manufacturing them for over 30years. The poly hubless drive rollers produced by our team of engineers at Plan Tech offer exceptional physical properties that stand them apart from those of other brands in the sector. Therefore, if what you are looking for are polyurethane hubless drive rollers that can remarkably resist wear, chemicals, and abrasion, etc. Then Plan Tech's rubber hubless drive rollers are the ideal choice for you seek.
In addition to the aforementioned properties, our hubless drive rollers are also capable of withstanding extreme weather conditions and unfavorable environments. There is no other brand in the sector that can boast of urethane hubless drive rollers that offer better durability than those manufactured at Plan Tech.
Whether you are a start up company or global leader, we can add value to your products with our strong engineering support, urethane polymer experience and constant focus on meeting all delivery requirements. Our rapid prototyping capabilities have also received particularly positive feedback – we frequently go from "Print to Part" in 10-15 business days! Everything we manufacture is MADE IN THE USA and our production capabilities include:
In-house custom mold manufacture
Waterjet cut urethane parts
Automated adhesive application for high strength urethane bonding to metal and non-metallic substrates
Open cast, rotational, compression and liquid injection molding
Are you interested in cast Polyurethane Hubless Drive Rollers? Please Contact us so we can help solve your requirements and work with you on your specific application!