Polyurethane inlet hoods are one of Plan Tech's numerous specialty products. As is customary of us, we are leaders in the polyurethane industry and only process first-rate Polyurethane materials which we use for the manufacture of our inlet hoods.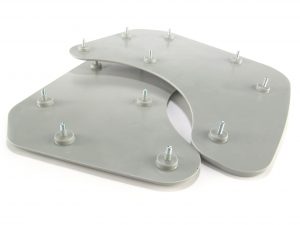 Our custom inlet hoods have been tested and proven to offer outstanding performance ability. Over the years, we have have been contracted to install polyurethane inlet hoods which are still in place to date having remarkably withstood various types of direct hits.
If you have tried the inlet hoods of other brands without the desired satisfaction, then is about time you worked with Plan Tech's rubber inlet hoods which do not break or shatter like those of their iron counterparts regardless of the severity of the application. Our polyurethane inlet hoods significantly reduce cracking that result from repeated abuse. They offer excellent resistance against wear, abrasion, chemicals, oils, gasoline and greases.
It doesn't matter the configuration or how light you desire your urethane inlet hoods to be, our technicians are more than capable to cast them to meet the exact requirements of your application. Therefore, bring your sketch, sample or idea to Plan Tech and you will be wowed by how perfectly we can bring that imagination of yours into reality. Polyurethane is a name synonymous with versatility. The mechanical properties of polyurethane unique elastomer can be manipulated and separated through polymeric creativity making problem-solving easy with a high-performance ability that is second to none. The benefits and advantages of this material are limitless.
Below are some of the benefits and advantages of polyurethane:
Abrasion Resistance
Polyurethanes are the perfect choice for applications against severe wear regardless of low temperature. For some decades now, they have been the most used materials for environments that are highly abrasive owing to their super ability to resist abrasion. No other form of elastomers, metals, and plastics has a better abrasion resistance than polyurethanes. Their abrasion resistance ability is rated to be 10 times better than what other materials can provide.
Are you interested in cast Polyurethane Inlet Hoods? Please Contact us so we can help solve your requirements and work with you on your specific application!