Polyurethane load wheels are specially designed to give today's modern applications the much-needed stability. All of our polyurethane load wheels are made in the USA and are utilized by material handling manufacturers on an OEM level.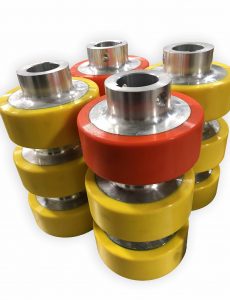 While it is true that color is not an indicator of hardness or quality, our polyurethane load wheels are nevertheless available in diverse colors and our products range from simple to intricate designs. Plan Tech's polyurethane load wheels are the product of our hardworking team of professional technicians who are renowned for being the best in the industry. We utilize raw materials that are of premium quality in a highly innovative fashion for the manufacture of our polyurethane load wheels to meet or exceed the requirements of your application.
Also, to ensure that our polyurethane wheels maintain its initial high-performance ability and abrasion resistance as well as long service life, we make use of latest technology for their manufacture. Below is an excerpt from what to expect when you utilize our urethane load wheels:
– Fine Performance
– Robust Construction
– Resistance to Tearing
Manufacturing custom polyurethane load wheels that effectively incorporate a metallic or non-metallic component requires a superior method for achieving a bond between the urethane and the substrate. Here at Plan Tech, we have developed preparation methods to consistently apply specially formulated urethane adhesives. Our proprietary equipment for cleaning, preparation, automated adhesive spray application and automated drying ensures a consistently high-strength bond between the urethane and the substrate. Over the past three decades, we have adhered cast urethane to millions of parts with an outstanding record of part performance in demanding applications. Some of the materials that we bond to include:
Steel
Aluminum
ABS Plastic
UWMW PE
Fabric
Fiberglass
Bronze
Felt
Please Contact us for further details or to answer your questions about polyurethane wheels!