Polyurethane molded bumpers of all shapes and sizes are manufactured in our fully equipped manufacturing facility in the USA our polyurethane molded bumpers are the best you will find in the industry. Almost any existing current design or prototype polyurethane bumper can be molded in high volume at Plan Tech with a rapid turn around. A variety of different hardness or colors are available to be produced. While some bumpers are designed to absorb an impact and return to its original size even after years of abuse in any condition.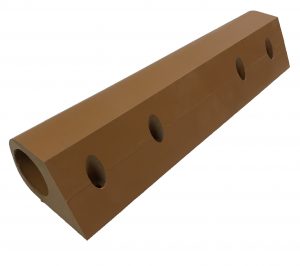 We also manufacture polyurethane bumpers to do the exact opposite, special applications require polyurethane molded bumpers to have a high rebound with little to no deflection. From prototype to high volume when it comes to creating custom polyurethane parts, there's no material – be it an elastomer, plastic or metal – that stands up to abrasion like urethane does. In fact, in some reports, urethane is shown to be ten times more resistant than these materials. If you're looking for custom urethane parts, there is no better option than using polyurethane parts with the support and knowledge from Plan Tech. Our product is not only strong and durable but is also designed to meet your requirements. We purchase polyurethane from world-class chemical companies and have a full line of additives to enhance performance such as wear and abrasion resistance. This makes our cast polyurethane molded bumpers and parts unique and is one of the reasons we are a leading supplier of urethane molded parts in the United States. Our large base of industrial applications helps us when determining which urethane resin and additive to incorporate into your part. You can be fully assured when designing a new or OEM cast urethane part with Plan Tech. Polyurethane Molded Bumpers are made of high-quality polyurethane resin. Urethane is itself quite elastic and has the ability to absorb shock and abrasions. Bumpers are manufactured from urethane, which will be durable and shock resistant. Also, as a result, polyurethane bumpers are quite common. Polyurethane Molded Bumpers have the best elasticity to strength ratio. These bumpers are abrasion resistant and durable. Airport conveyor belts employ the use of specially molded polyurethane bumpers so that the heavy luggage doesn't damage the conveyor belts.
Please Contact us for further details or to answer your polyurethane molded bumpers design questions!