Polyurethane nip rollers are a combination of an idler roller and a drive roller working together. The polyurethane nip rollers manufactured by Plan Tech offer superior load bearing ability and are resistant to oil, ozone, abrasion, and impact. Nip rollers can be used for laminating sheets in combination with film adhesive, wet adhesives or parts covered with contact cement or hot melt glues. No other company in the industry is more specialized in the craft of producing world-class quality polyurethane nip rollers at a very affordable budget.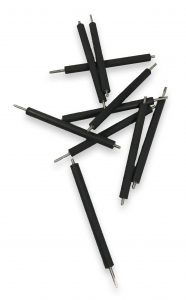 Our entire range of polyurethane nip rollers are manufactured by our team of engineers who are among the best in the industry, and we use high-grade urethane materials, purchased from world-renowned producers. Our polyurethane nip rollers are available in different sizes and profiles. And we can have them custom made to meet the specific requirements of your application using special additives upon your request. To ensure high-level precision, our technicians test the products using various parameters, and this helps in manufacturing products with high-level performance as well as 5-star customer evaluations. Other precision rollers manufactured by our team of dedicated experts include convex rollers, straight rollers, v-groove rollers, bearing covers, coated bearings, concave rollers, bushings and a lot more custom cast urethane components and parts.
Manufacturing custom urethane parts that effectively incorporate a metallic or non-metallic component requires a superior method for achieving a bond between the urethane and the substrate. Here at Plan Tech, we have developed preparation methods to consistently apply specially formulated urethane adhesives. Our proprietary equipment for cleaning, preparation, automated adhesive spray application and automated drying ensures a consistently high strength bond between the urethane and the substrate. Over the past three decades we have adhered cast urethane to millions of parts with an outstanding record of part performance in demanding applications.
Please Contact us for further details regarding polyurethane nip rollers!