Polyurethane Pans that are custom manufactured at Plan Tech are cast to meet any application-specific requirements. We make use of state-of-the-art processing equipment and advanced molding techniques to produce professional-grade polyurethane pans for all types of industries.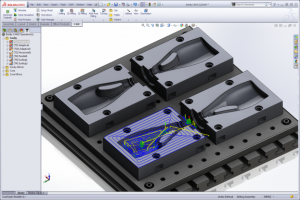 Our engineering team does not fail to apply speed and precision during production. The application of both measures enables us to consistently meet high volume demand of our polyurethane pans within an incredibly fast turnaround without compromising quality. Our polyurethane pans have proven to offer tremendous physical properties.
The rubber pans that we produce at Plan Tech can remarkably withstand heavy pressure as well as resist wear, corrosion, chemicals, and abrasion, etc. Manufactured with the expectation of a high performance, reliability, and a formulation that can withstand extreme work environments.
Our polyurethane pans are available in different shapes, sizes, hardness, and colors. And we are more than capable of casting polyurethane trays according to your specific requirements irrespective of the purpose of the application. So, if what you are looking for is a company that can manufacture polyurethane pans that will offer good value for your money as well as help set your brand apart from others in the industry, then Plan Tech is the ideal choice you seek. Plan Tech strives to use the latest in design software technology for the designing of complex urethane molds. We utilize SolidWorks to design all of our open face and compression molds per customer specifications. When we have completed our design that has been approved by the customer we machine them using CAMWorks at our in-house machine shop. This creates a faster "concept to production" environment to produce superior parts for our customers. Below is a list of the software used for designing urethane molds:
GrabCAD: GrabCAD is a startup that has created a free cloud-based collaboration solution that helps engineering teams manage, view and share Cad files. GrabCAD is used by companies big and small to support the design of physical products of all sorts – from basic screws to jet engine brackets at GE, to robotics that zap germs.
Are you interested in Polyurethane Pans? Please Contact us so we can help solve your requirements and work with you on your specific application!