Polyurethane pipe rollers are produced in many sizes to match the profile of the pipe it will be processing. We have found over the years that many shipping warehouses and the oil industry have made special pipe handling equipment requiring a high-quality polyurethane material to handle immense weights and weather conditions.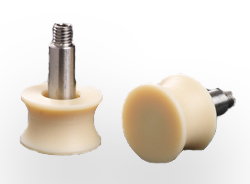 Our ether-based material of high-quality polyurethane can be molded or machined into any profile polyurethane pipe rollers with rapid turn around. Often times we can go from design to production in less than 4 weeks. We have a special blend of polyurethane that is chemical resistant and offers UV protection against sun fading. Frequently we receive feedback that our polyurethane pipe rollers are the best in the industry and we are always ready to take on new custom polyurethane pipe rollers.
We also have a full line of custom machines and Plan Tech will work with you to suggest the correct urethane material for any application. From soft to hard materials Plan Tech offers a full line of durometer and colors. Our most common polyurethane pipe rollers are coated in a 95A hardness with an additive to reduce friction and aid in abrasion resistance. Most OEM pipe rollers are made from a material of much less quality without antistatic options available. At Plan Tech we can custom tailor our material to include such properties as antistatic or oil filled impregnated urethane.
Machining cast urethane parts require specialized equipment and training. Here at Plan Tech we utilize 3D CAD design SolidWorks and make all of our own molds in-house for speed, accuracy and precision. We control the entire process from design to manufacture. Custom urethane manufacturing is at the very core of what we do. Our machine shop includes CNC Lathes, Mills and Grinders for machining cast urethane parts. We also have manual mills as well as a sheet metal and welding area. In addition, we have a Flow Water jet with 48×96 inch sheet capabilities and can cut a list of materials like Polyurethane, Steel, Stainless Steel, Aluminum, Carbon fiber, and most plastics.
Please Contact us for further details regarding polyurethane pipe rollers!