Polyurethane pulley steel core are custom cast to produce pulleys for any industry requiring a high-performance material with a long service life. Since polyurethane is FDA compliant – polyurethane pulleys with a steel core can be easily reproduced for low-cost replacements and can be cleaned using most chemicals.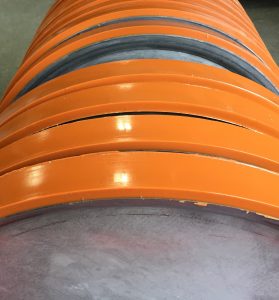 From small to large cast polyurethane pulleys Plan Tech can produce most polyurethane pulley steel core applications in 4 weeks or less. Being a custom cast polyurethane product we can allow our customer to purchase any color or hardness required for the applications. Our team of engineers is also ready to help design new polyurethane pulley steel core from a simple sketch or drawing. The steel core of the pulley will be de-greased and media blasted before bonding the polyurethane directly to the core. This chemical bond ensures the pulley will have a long service life.
Frequently we hear that our polyurethane coatings outlast the original equipment. Finished polyurethane pulley steel core and machine turned on a lathe to ensure a balance wheel for high-speed applications. Polyurethane is also chemical resistant to most commercially used chemicals and has a recommended temperature range from -20 to 170F. At Plan Tech we can produce Polyurethane pulley steel core up to 12'' Diameter with a turned or ground finish for any hardness coating.
Plan Tech utilizes an accredited testing organization such as the Society for Testing and Materials (ASTM) who define the procedures in detail. In addition to these state of the art technical capabilities, Plan Tech also has an outstanding team of dedicated employees with exceptional talents designing and manufacturing urethane molded parts. We also are very proud of the "company we keep." Our customers include many Fortune 500 companies, most of whom have been customers for 20+ years. Their drive to become industry leaders has helped us do the same.
Please Contact us so we can discuss your Custom Polyurethane Pulley Steel Core application!