Polyurethane rings are manufactured in our world-class cast polyurethane manufacturing facility plus we also have an in-house machine shop. Plan Tech's facility is fully equipped with state of the art equipment and led by our team of engineers that have the technical know-how of manufacturing world-class urethane parts like the polyurethane rings we produce. The polyurethane rings we manufacture help in reducing downtime.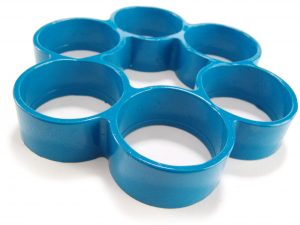 To ensure their premium grade quality, we only utilize first-rate polyurethane material for the production and with over 30 years we are renowned for producing urethane riser rings that are best in class. Our application of speed and precision allows us to maintain consistency in quality and manufacture rings in high volume. Our urethane rings also allow you to save on material costs with their remarkable ability to resist wear and withstand harsh environmental conditions. They offer tight resist against abrasion, chemical as well as corrosion. We have them available in different colors, durometers and sizes.
You can count on us to handle your polyurethane rings from scratch to finished product. The tooling cost of our poly rings is relatively inexpensive, and we are capable of tailor making our rings to meet any specification such as wet or dry FDA requirements. Making us the go-to company for all urethane needs will help you quickly become a renowned brand in your sector. The mechanical properties of polyurethane unique elastomer can be manipulated and separated through polymeric creativity making problem-solving easy with a high-performance ability that is second to none.
Polyurethane Rings
Open cast molding is the simplest and most common molding method for polyurethane rings.
Advantages: Since pressures and temperatures in the molding process are relatively low (ambient pressure and temps below 250F), the molds are more cost-effective and can be made from a variety of materials including polyurethane. Open cast molding urethane parts is good for parts with relatively open tolerances on one surface. If tolerances are tighter, a secondary finishing operation is an option.
Please Contact us for further details regarding polyurethane rings!